---
Part 4 of the Uno Turbo engine swap
Heat shields are very important for keeping the alternator from getting too hot and burning up prematurely. Thereís one on the turbo exhaust housing and one on the alternator. The Xís big elbow pipe wonít fit with the turbo heat shielding in place, but the Unoís lower profile shield slides right in. In the pics, the turbo shield isnít mounted.
Thermostat housings are also different, with the X set up to flow water towards the front of the car. Unless you use longer, custom radiator hoses, the X housing needs to be used. Otherwise you risk crimping or folding the hoses and thus cutting off water flow. Also, using the X housing allows you to change just the thermostat when needed instead of the more expensive all-inclusive unit.
Putting it in the car is the same as putting a normal X-1/9 motor in. Don't forget to remove the alternator first!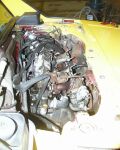 A custom mount for the AFM was needed. I modified the original mount to bolt to the top engine brace mount. Later it will be removed as the MegaSquirt system makes the AFM completely unnecessary.
The water pump, starter and alternator are the same on both cars. There may be some cosmetic differences, but are otherwise identical.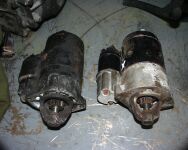 The story continues in Part 5...